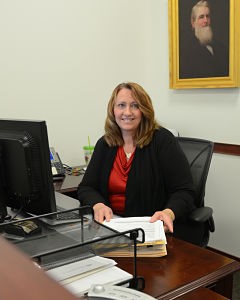 Cathy M.
Sasse
Senior Registered Financial Associate
Cathy Sasse, a Senior Registered Financial Associate, began her career in the financial services industry in 1993 at First of Michigan.  She then worked for Hilliard Lyons before joining the Midland branch office of A.G. Edwards & Sons in 2000.  Cathy graduated from MidMichigan Community College in 1995 with a degree in Business Administration and Management.  In 2008, she earned a bachelor's degree in Business Management with a minor in Accounting at Davenport University.  Cathy continued her education by obtaining the Series 7 and Series 65 licenses for the financial services industry.
In addition to being an active member of the VFW Women's auxiliary post, she enjoys volunteering for the VFW.   Cathy also volunteers with West Midland Family Center, assisting with fundraising for their family programs.  Cathy is an active member of St. Paul's Lutheran Church and works with committees serving the local community.
Cathy enjoys spending much of her free time with her two daughters, four granddaughters and one grandson as well as gardening, crocheting, quilting, reading and traveling.