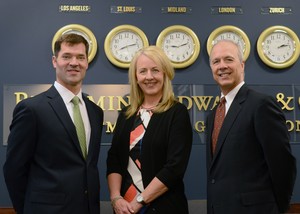 Legacy Wealth
Management Team
Phone:
989-835-3000
toll-free 855-909-0300
Fax:
989-835-7462
Legacy Wealth Management was formed when our experienced financial professionals decided that strength came from the right people joining together and teaming up with the right firm.   We believe you will enjoy the benefits of our shared passion for excellence in financial advice and service.  With over eighty years of combined experience, our team has guided clients through the highs of the 'tech bubble' and the lows of the 'Great Recession'.  Our passion is not driven by market action but by our desire to help you focus on your Legacy.
Just like the partners of Legacy Wealth Management are stronger together, you and our team can be stronger together.  Legacy Wealth Managment consists of the following professionals:
Financial Consultants:
Matthew G. Bishop, CFP®, Vice President – Investments
Dana L. Gibbs, Vice President – Investments
Ralph A. Brozzo, CFP®, Vice President – Investments
Client Service:
Cathy A. Sasse, Sr. Registered Financial Associate
We want you to be a part of our family.  Please contact us for a personal consultation and together we'll focus on your future.
2014-2217 exp. 12/31/2017